Some of the BEST family Christmas traditions begin in the kitchen. Here are a few healthy holiday meal and appetizer ideas. Some are simple things you can do with the kids and some are a labor of love but will taste AMAZING. The best part is they are all lower in calories than traditional holiday recipes and high in nutrition. Add in a few of your family favorites. Enjoy!
Appetizers
Grinch Kabobs (by AllRecipies.com)
1 large banana, cut into 24 slices, or as needed
24 hulled strawberries, tips removed
24 green grapes
24 miniature marshmallows
24 toothpicks
Directions: Thread 1 grape, 1 banana slice, 1 strawberry (narrow end facing up), and 1 marshmallow onto 1 toothpick to resemble the Grinch's head in his red hat. Repeat with remaining grapes, banana slices, strawberries, and marshmallows.
Simple Deviled Eggs
6 hard-cooked eggs
2 tablespoons plain greek yogurt
1 teaspoon white sugar
1 teaspoon white vinegar
1 teaspoon prepared mustard
1/2 teaspoon salt
1 tablespoon finely chopped onion
1 tablespoon finely chopped celery
Directions: Slice eggs in half lengthwise and remove yolks; set whites aside. Mash yolks with a fork in a small bowl. Stir in mayonnaise, sugar, vinegar, mustard, salt, onion, and celery; mix well. Stuff or pipe egg yolk mixture into egg whites. Sprinkle with paprika. Refrigerate until serving.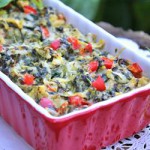 Hot Spinach Dip
1 (10 ounce) package frozen chopped spinach, thawed and drained
1/2 cup red bell pepper, diced
1 tablespoon minced garlic
1 (6.5 ounce) jar artichoke hearts, drained and mashed
1/2 cup low-fat sour cream
1/2 cup grated 2% or low-fat Parmesan cheese
salt and ground black pepper to taste
1/4 cup heavy cream
Directions: Preheat oven to 350 degrees F (175 degrees C). Mix together spinach, bell pepper, garlic, artichokes, sour cream, and parmesan cheese. Season with salt and pepper. Mixture will be thick; add cream to thin to dip consistency. Spoon into a 1-quart baking dish. Bake for 20 minutes, or until bubbly. Serve with crackers or baked tortilla chips.
Main Dish

Slower Cooker Christmas Ham
2 cups packed brown sugar
1 (8 pound) cured, bone-in picnic ham (all visible fat removed)
Directinos: Spread about 1 1/2 cups of brown sugar on the bottom of the slow cooker crock. Place the ham flat side down into the slow cooker – you might have to trim it a little to make it fit. Use your hands to rub the remaining brown sugar onto the ham. Cover, and cook on Low for 8 hours.
Side Dishes
Lemon Pepper Green Beans (by AllRecipe.com)
1 pound fresh or frozen green beans, rinsed and trimmed
2 tablespoons light butter
1/4 cup sliced almonds
2 teaspoons lemon pepper
Directions: Place green beans in a steamer over 1 inch of boiling water. Cover, and cook until tender but still firm, about 10 minutes; drain. Meanwhile, melt butter in a skillet over medium heat. Saute almonds until lightly browned. Season with lemon pepper. Stir in green beans, and toss to coat.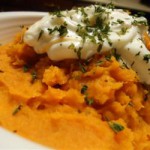 Spiced Sweet Potatoes
6 sweet potatoes, peeled and cubed
3/4 cup milk
1/2 cup butter
3/4 cup maple syrup
1/2 tsp nutmeg
Directions: Bring a large pot of salted water to a boil. Add potatoes and cook until tender, 20 to 30 minutes. With an electric mixer on low, blend potatoes, slowly adding milk, about 1/2 a cup at a time. Use more or less to achieve desired texture. Add butter, nutmeg, and maple syrup to taste. Blend until smooth. Serve warm. Marshmallow cream topping in picture is optional for those wanting to use this as a dessert.
Old Fashion Stuffing
1/4 cup light butter
1 cup diced celery
1/2 cup chopped onion
salt and pepper to taste
1 teaspoon poultry seasoning
8 cups dry bread cubes
1 cup fat-free chicken broth
Directions: Melt butter in a medium skillet over medium heat. Stir in celery and onion and cook until tender, but not brown. Remove from heat and stir in salt, pepper and poultry seasoning.
Place bread crumbs in a large bowl. Toss with skillet mixture and enough broth to lightly moisten the bread. Bake stuffing in a 2 quart dish, covered, 40 to 45 minutes in a 375 degree F oven.
DESSERT
Joyful Christmas Trifle
1 (12 ounce) container frozen fat-free or light whipped topping, thawed
1 (8 ounce) container light sour cream
1 (9 inch) angel food cake
1 (3.4 ounce) package instant (regular or sugar-free) vanilla pudding mix
3 kiwis, peeled and sliced
1 pint fresh strawberries, sliced
1 cup blueberries
3 bananas, peeled and sliced
1 (15 ounce) can crushed pineapple, drained
1 fresh mint to garnish
Directions: In a medium bowl, fold sour cream and unprepared pudding mix into the whipped topping. Cut the cake into thirds, horizontally. Line a large trifle or other glass serving bowl with kiwi, blueberries, and strawberry slices, reserving two whole strawberries, 1/2 cup blueberries, and two kiwi slices. Place one layer of cake in bottom of bowl, top with 1/3 of bananas and pineapple, and 1/3 of whipped topping mixture. Repeat layering until all ingredients are used. Make fan garnishes of whole strawberries by slicing from just below the stem. Garnish assembled trifle with fanned strawberries, reserved kiwi slices, blueberries, and mint. Refrigerate until serving.
Print Holiday Meal Grocery List by Clicking Here
(Visited 536 times, 1 visits today)