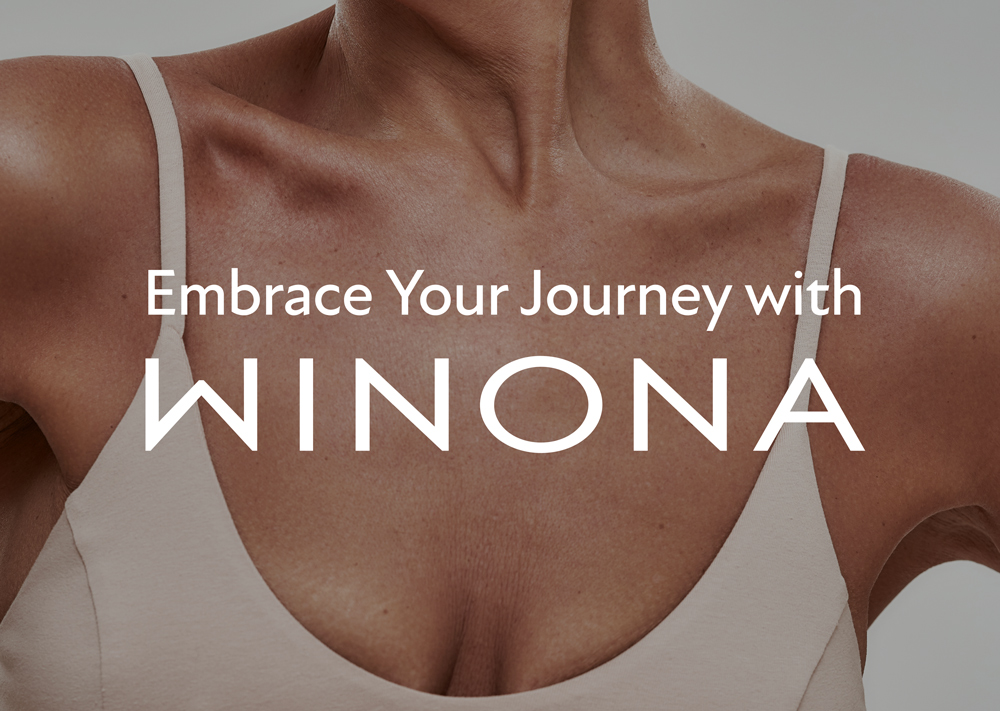 Navigating the intricate landscape of menopause can be challenging, but Winona is here to empower you on your unique journey. We understand that every woman's experience is distinct, and that's why we offer a personalized approach to menopause care. Our telehealth platform provides a seamless connection to board-certified physicians, compounded hormone replacement therapy (HRT) made with FDA-approved ingredients, and a supportive community of 10,000 women – all at your fingertips without additional cost.
Personalized Menopause Care:
At Winona, we believe that menopause is not a one-size-fits-all experience. Our team of experienced and compassionate board-certified physicians is dedicated to understanding your needs and tailoring a menopause management plan specifically for you. Through our telehealth platform, you can access expert advice, discuss your symptoms, and receive personalized recommendations –all from your home.
Compounded HRT with FDA-Approved Ingredients:
We take your health seriously, which is why Winona's compounded hormone replacement therapy (HRT) is meticulously crafted with FDA-approved ingredients. Our compounding pharmacies adhere to the highest standards to ensure the safety and efficacy of each formulation. You can trust that our HRT is designed to address your specific hormonal imbalances, providing relief from menopausal symptoms and supporting your overall well-being.
The Winona Community:
Beginning the menopause journey can feel isolating, but with Winona, you're never alone. Join our thriving community of 10,000 women who understand and share your experiences. Engage in meaningful conversations, ask questions, seek advice, and find comfort in the shared experiences of others on a similar path. Unlike other platforms that charge a fee for community access, Winona believes in fostering a supportive environment without any financial barrier. By joining our community, you gain instant access to a network of women navigating the same challenges and triumphs for free.
Wellness at Work: At Winona, we recognize that women are at the heart of vibrant, dynamic workplaces. Acknowledging the unique challenges that menopause can pose in a professional setting, we are proud to introduce Winona Corporate Wellness. This initiative is designed to support women in the workplace by fostering a culture of understanding, empathy, and practical assistance. Our corporate wellness program extends the benefits of Winona's telehealth platform to the workplace, providing women with the tools and resources they need to navigate menopause while excelling in their careers. Through this program, employees gain access to our board-certified physicians for confidential consultations, ensuring that their menopausal journey is seamlessly integrated into their professional lives.
Additionally, the program offers tailored workshops and educational sessions for employers and employees alike. By promoting awareness and understanding of menopause in the workplace, Winona aims to create an environment where women feel supported, valued, and equipped to thrive at every stage of their careers.
Winona Corporate Wellness is a testament to our commitment to empowering women holistically, acknowledging the intersectionality of their personal and professional lives. By prioritizing the well-being of women in the workplace, Winona is championing a more inclusive and compassionate approach to corporate culture. Join us in revolutionizing how we support women during menopause, ensuring that they not only navigate this transformative period with confidence but also continue to shine in their professional endeavors. Together, we can redefine what it means to empower women in the workplace and beyond.
Empowerment through Knowledge:
Education is key to navigating menopause, and Winona is committed to providing you with the knowledge you need. Our platform offers a wealth of resources, including articles, live Q&A sessions, and expert-led discussions. Stay informed about the latest research, treatment options, and self-care practices to make confident decisions about your menopause journey.
Winona is more than a menopause telehealth company – it's a community of women dedicated to empowering each other through personalized care, compounded HRT, and a supportive network 10,000 strong. Your journey through menopause is unique, and with Winona, you can embrace it with confidence, knowing that you have the expertise of board-certified physicians trained in hormone therapy, the quality of bioidentical HRT, and the solidarity of a thriving community behind you – all at no additional cost. Join Winona today and take the first step towards a more empowered, informed, and supported menopause experience.
(Visited 22 times, 2 visits today)