Have you felt like you want to start a business for some time, but there's something holding you back? Perhaps you want nothing more than to start this venture, inject some excitement into your life, hopefully make more money, and want something to be proud of – but you just can't seem to take the first step.
Oftentimes, taking the first step, and the next step is all that's required to get to where you want to be. The first step is nearly always the hardest. You will quickly start to build momentum, and before you know it, you're on your way to owning a successful business.
Now, let's take a look at why you feel unable to start your business.
Why You Feel Unable To Start Your Business 
Many people feel unable to start their business due to their own limiting beliefs. Speak to any uber-successful entrepreneur and they will tell you that the most important thing in your business venture is your mindset. If you believe you can, then you will. If you don't think you can, then you won't. Limiting beliefs are something we all possess, but it is well within our own power to figure out what they are and do something about them. We may have picked them up from school, teachers, parents, and other family members, and that isn't our fault. However, it is our full responsibility to recognize them and do something about them. If you know you have them and you don't do anything, you can hardly complain!
You Don't Know Where To Start 
One of the most common reasons that people just don't want to take that first step, is that they don't know what to do. What should the first step be? The first step can be really simple. It can be doing some research and market analysis. It could be creating your brand biography, outlining who you want to help and why.
The key to getting this right, is breaking it down into very small steps. You can keep on breaking the steps down until they are teeny tiny. Suddenly, 'starting a business' transforms from one huge leap of faith to a series of small, easy to accomplish steps. In fact, minimizing all of the steps and breaking them down as much as possible could be your very first task.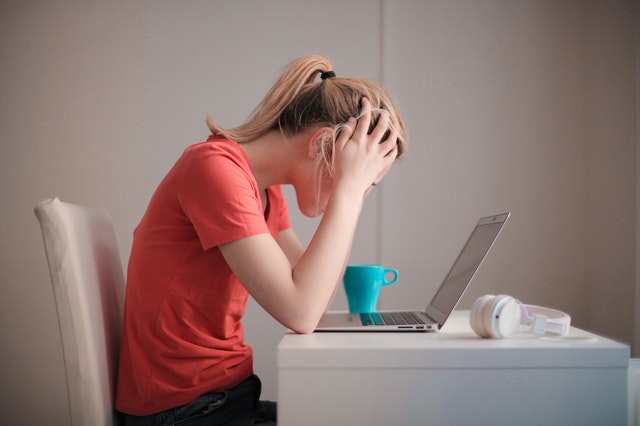 You Feel Like An Imposter
A lot of business owners feel like an imposter when they first start out. Don't let this be the reason that you don't start at all. So what if you're not an expert yet? You can find answers easily online, and many learn as they go. Growth means you have to keep learning and evolving. You'll never feel 'ready' if you just expect yourself to have all of the knowledge you need one day. Start with some passion and the basics, and learn from there.
You're Worried About What Other People Will Think
Don't be one of those people that worries so much about what other people think you sacrifice your hopes and dreams. Other people will always have an opinion. Do yourself a favor by focusing less on them and more on you, and you'll have a much better time.
You're Not Sure You Can Get Funding 
Getting funding for your business may be important if you know you need a lot of equipment, for instance. There are so many ways to raise money for your small business that you won't be limited to the things you can do. There's always a way. 
You're Worried You'll Fail
Let's say you don't know if there's a market for your business. All you need to do is a little market analysis and research, which really isn't that difficult to do, and you'll have a good idea of whether your business is viable in today's marketplace.
If you're smart, you'll know that a number of other things can play into whether or not you fail. Your management and attitude will make a big difference to this. Failing isn't actually the end of the world! 
What To Do To Get Started
Need more advice and motivation to kick yourself into gear? You'll find it below.
Step 1: Break Everything Down Into Baby Steps 
As we mentioned before, breaking everything down into baby steps can make the whole task of starting a business so much more manageable. Do this now. Start from the end and work your way backwards if you're not sure how to start. You know where you want to end up, so what will you need to do before then, and before that?
Step 2: Do As Much Research As You Need To Start, But Don't Overdo It 
Of course, doing some research before you begin is smart. It's recommended. But don't overdo it. This is how you put yourself in a state of analysis paralysis. You'll never feel ready if you don't just grab the bull by the horns.
Step 3: Make Sure You Have A Strong Support System Around You
Don't tell people what you're doing if you're not sure they will be supportive. You may have family members and friends who you love and care about dearly, but if you've always felt like they are clueless when it comes to supporting you, keep it to yourself. Find one or two people you can confide in.
Step 4: Approach Investors And Banks 
Do your research on funding options and come up with a plan to approach investors and banks. Depending on the amount you need, you may be able to get away with a business credit card. 
Step 5: Find Mentors And People To Look Up To 
Mentors and people you can look up to can help you to change your attitude towards failure – failure is not life threatening. Failure can help you to grow. So many successful entrepreneurs have a string of failures behind them. 
Step 6: Set Attainable Goals 
Set SMART goals. These goals are SMART Stands for:
Specific – specific goals are so much better than vague goals. You can't track vague goals, and they won't be as motivating.
Measureable – a great goal is one you can measure. How else will you know if you're on your way to reaching it?
Achievable – reach for the stars, but manage your expectations.
Relevant – this one is self explanatory!
Time-based – with everything else in mind, put a date on your goal. 6 months? A year? Your research should give you a good idea of what timeframe to use.
Step 7: Make Sure You're Passionate 
Don't start a business purely for the money. Money is great, but you want to be happy. You want to feel like you're making a difference to the world, or at least your target market. Figuring out your 'why' and making sure it resonates with you on an emotional level will make a great difference to your success and productivity. It'll also ensure business longevity! 
Step 8: Let Go Of The Idea Of Having The Perfect Work/Life Balance 
Let's face facts: you're going to need to work hard when you start a business. You're going to be doing more work than relaxing at the start. How long you do this for will vary from business to business. You may be able to afford help earlier on, for example. However, you may struggle to strike that balance.
Providing you come up with a plan so that you can be time-rich later on, this shouldn't be too much of a problem!
(Visited 101 times, 1 visits today)