Getting married marks one of the most important and emotional days of your life. For a lot of couples, getting married comes as a decision inspired by a variety of factors. It's not uncommon to transform a long-term relationship with a wedding because you hope to simplify your administrative and financial life. Some couples also choose to officialize their relationship with a wedding, virtually bringing their love to the next level. Besides, a marriage is a milestone that also marks the beginning of something new, such as a family. However, even though getting married is a beautiful choice for couples, it also is a stressful event. According to Zola's study, almost 100% of engaged couples are stressed out about their wedding plans. A whopping 71% argue that getting married is one of the most nerve-wracking things they've faced in their lives. 
Why are we so stressed about weddings, when ultimately it should be an uplifting and positive experience. Getting married to the love of your life is a beautiful thing to celebrate. But, for too many of us, the drive to have a "dream wedding" can be overwhelming. Of course, there is a lot to organize and arrange before the big day. Yet, your expectations of a dream wedding and what it should mean can get in the way. You may be surprised to know the pursuit of the dream wedding is, in all likelihood, the cause of your anxiety. Here is a thought to consider: What if you took the time to question what you want from your big day and throw a meaningful wedding reception that reflects your values?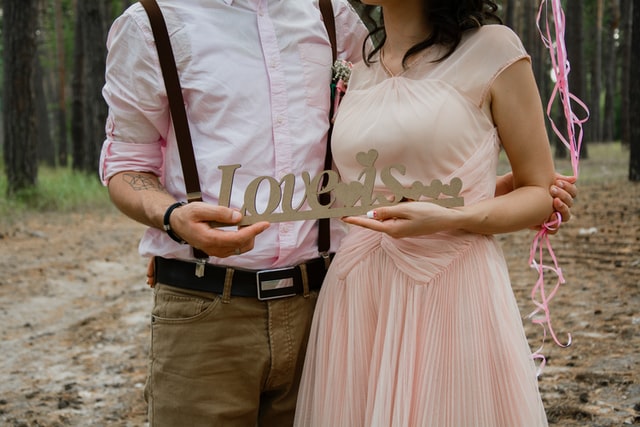 Does a party have to be big to be joyful?
How many people should you invite to your wedding? The average party size in the U.S. is 131, as of 2019. The coronavirus pandemic is likely to affect figures for 2020. But most couples expect to be able to carry on with their plans as normal by 2021. When it comes to determining how many guests they should invite, couples tend to use friends, neighbors, and relatives as a system of reference. Your friend Janine threw a party for approximately 200 guests, while your cousin arranged an almost intimate wedding reception for 130 guests. You may be tempted to compete with the people you know in terms of party size. However, keeping up with the Jones is only going to increase wedding costs and planning issues. The real question you want to ask yourself is who you really want to celebrate the big news with. If you don't have a large group of friends or a big family, you are at risk of inviting unsuitable guests just to make up the numbers. The best receptions are filled with emotions, not people. 
Shout it loud and clear to everyone
Social media is a double-edged sword. On the one hand, it's a great place to share your happy news with your contacts. But social media platforms compete for social approval in the form of likes, shares, and engagement. You may find yourself googling some of the most exciting ways to announce your engagement and wedding date to your network. Hashtags #SheSaidYes and #TheFutureMrsX are a popular choice to make your official announcement. However, social media announcements come at a high mental cost. The online competition for popularity is public, making your wedding news less popular than your sister's puppy. Unfortunately, the pressure for likes and engagement online is constantly growing and can affect your mental health. Instead, it's so much easier to opt for a more intimate and selective approach with paper invites. For instance, MagnetStreet has traditional wedding invitations that look cute and effective. More importantly, they don't need to compete against anything else for popularity; they stand on their own as attention-worthy messages. 
Outdoing each other
Not all problems in life can be tied down to our fears and insecurities. Yet insecurity is the process of thinking that you are not good enough or that people wouldn't like you if you didn't meet their standards. Comparing ourselves against others creates a baseline of standards. Your friend Janine's wedding, for example, provides a set of references that you are trying to outdo. Unfortunately, social comparison is an unhealthy part of everyday life that highlights differences that most people interpret as flaws or shortcomings. The bottom line? You are not Janine, and what she wanted for her wedding is not what you want. It's a mistake to judge your individual qualities or your relationship on whether or not you can emulate or outdo Janine's wedding. The result is only going to be more stressful and lead to further insecurities. Making your wedding better than someone else's is not only a waste of time. It is also a waste of self. Trying to outdo others is, in many ways, an act of undoing yourself. Plan a wedding that doesn't stand any comparison, and that is as unique as you are. Make it yours.
Realizing you follow traditions you don't believe in
A surprising amount of stress about getting married comes from the desire to follow customs that are not meaningful to you. A lot of concessions that partners make through the wedding plans have to do with typical wedding traditions, aka the little things we feel we have to do because generations before us did them. However, each marriage is unique, and what works for your couple may not be what works for others. As such, imposing traditions that don't make sense to you and are not an essential part of getting married is a waste of everybody's time and sanity. The choice of a wedding band is an excellent example of this. The wedding ring symbolized the union and signals to others that you are already taken. Nevertheless, the ring remains a symbol. If you are not used to wearing jewelry, you don't need to stress about it. You can opt for another symbolic accessory, such as planning couple tattoos. Couple tattoos can be a cute and stylish choice that lasts and doesn't rub against your fingers. If ink is more meaningful than gold to you, it can make your wedding plans more personal. 
Another cause of friction during the planning time is the choice of the married name. A lot of women don't want to change their names after getting married. While it is a subject to clear between yourself, the truth is that there's no need to take your partner's name to officialize the union. Couples can be married and have different surnames. 
Wha if I don't want to wear a dress 
What is the ideal wedding dress? Opinions are divided. Some brides have been dreaming of walking down the aisle with a long white gown. For others, however, the choice of a wedding dress can be a challenging mission. Finding a dress that suits you and makes you feel confident can take a lot of time. If you are someone who feels more confident wearing a suit or a pair of jeans, the question you want to ask yourself is: Why should you pick an outfit that doesn't make you feel comfortable on your big day?
If you have no intention of planning a traditional Church wedding, the problem of the dress becomes immaterial. Regardless of what others might expect from you, it is your wedding. As such, you are in charge of what you want to wear. The ceremony will be just as meaningful. It is, after all, a celebration of your love, not a catwalk show.
My ideal wedding is just to marry the person I love
Everybody is different. Some brides or grooms are excited at the thought of planning the perfect wedding. For others, getting married is a formality that officializes a long and happy relationship. As a result, you may not want to invest a lot of time and money in organizing what might feel like an elevated administrative process. There is no right or wrong when it comes to a wedding celebration. What matters is to know that you're not making decisions to please anyone but you and your partner. Feeling pressured to proceed with a religious ceremony and a large party will only create stress and conflicts.
But, I still want a fancy princess dress and a wedding
Your dream wedding is unique to you. It doesn't follow trends and social statements. Yet knowing what you want is no easy matter. Getting in touch with your inner self to understand your desires and needs is an essential step of the ideal wedding plan. The path of self-discovery can be difficult as we are programmed to recognize social expectations and pressure. But once you learn to focus on that inner voice, you can step confidently in the direction that's right to you. Tuning in to your desires allows you to bring your wedding plans to life without worrying about what others think. 
Nobody can tell you what your dream wedding is. Ultimately, your wedding is an act of love, and it is only meaningful if you allow it to encompass self-love in the process. Respecting your desires and following your priorities as a couple over social pressure and expectations makes the dream wedding possible, achievable, and virtually seamless. Stress comes from unnecessary conflicts that don't match your needs.
(Visited 270 times, 1 visits today)