One of my favorite scriptures is Jeremiah 17:8 "For he will be like a tree planted by the water, That extends its roots by a stream And will not fear when the heat comes; But its leaves will be green, And it will not be anxious in a year of drought nor cease to yield fruit." In this blog post, my friend Debbie Hannah Skinner paints a beautiful word picture of what this can look like in our daily lives.
***
"Oh, Debbie, you're gonna love the people here," said a sweet little lady when we moved to west Texas, but whispering under her breath she added, "but you're gonna have lots of bad hair days."
She was absolutely right. The people are wonderful but the region has been documented to be one of the windiest places in the USA making bad hair days the norm.
Occasional bad hair days are nothing compared to how windswept this mean old world can feel with its unrelenting change, chaos, and conflict blowing around us.
When it feels like the world is mercilessly blasting us and we're tossed around grasping for soul rest in the midst of it, there's a simple thing we can do to shelter from the storm: meditate on Scripture.
The Old Testament Hebrew word "meditate" simply means to ponder or to say something over and over to yourself.
Like driving around a shopping center parking lot in search of an open space to park my car, I think of Bible meditation as choosing to take my thoughts and "park" them on Scripture.
Psalm 1 paints a beautiful picture of what we can be like as we meditate on God's word, promising we will be like trees.
Picture a huge shade tree growing alongside a stream. It's been there so long its roots are burrowed deep down in the earth so its nourishment comes from underground. Those buried roots keep the tree strong and healthy no matter the drought conditions or wind storms surrounding it above the surface.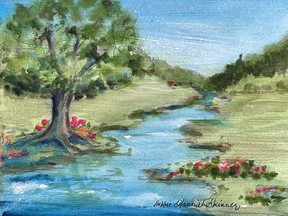 Because of the place it's planted, the Psalmist notes two amazing qualities of this tree… its leaf does not wither and it bears fruit in season.
What a beautiful picture of health and life and stability, not to mention productivity and growth. Those are qualities I want in my life, don't you?
After this word picture, though, the Psalmist describes an opposite image— illustrating what happens when we choose to not park our thoughts on Scripture. He writes we will be "like chaff the wind blows away." It's a picture of trash blowing in the wind.
In west Texas, you can hardly pass a barbed wire fence without seeing trash that's been blown in the breeze so hard it's left a trail of tattered plastic bag banners waving in the wind. It's the picture of an unrooted life.
There is an unvoiced choice in Psalm 1– meditate on Scripture for stability and soul rest OR choose not to do so and suffer the consequence of being blown around like trash in the wind.
Next time you're bruised by the buffeting winds of the world, ask: Am I reacting more like the tumbling trash or the deep-rooted tree pictured in Psalm 1?
If you're feeling tossed about like tumbling trash and long to be tree-like:
Open your Bible and read. Start with one small verse or chapter.
Choose to park your thoughts on God's word throughout your day by pondering the Scripture.
The next time you see trash blowing in the wind, be reminded of the simple choice we can make to find soul rest by meditating on God's word.
Free Dwell: Coloring as Scripture Meditation Workshop
For those ready for a simple (and fun) step-by-step way to meditate on Scripture and let the words dwell in you richly while coloring, try one of Debbie's Color Through The Bible devotional coloring books for adults. Download her free coloring sheet bundle HERE and wade into the highlights of her free 33-minute Dwell: Coloring as Scripture Meditation workshop HERE.
Debbie Hannah Skinner is an artist, national speaker, and founder of WisdomInWatercolor.com to provide artful inspiration to women to "let the word of God dwell richly" in their hearts. She authored Color Through The Bible devotional coloring books for adults using a simple, playful art-based approach to help women refocus their restless minds on Scripture. For many, it simultaneously renews a sense of peace and expresses creativity in the process. Learn more about Debbie's ministry with words and watercolors at WisdomInWatercolor.com Find out more about her devotional coloring books at ColorThroughTheBible.com.
(Visited 1,174 times, 1 visits today)