New studies are now proving that sleep is absolutely critical for good health.
For example, one study in 2017 found that lack of sleep could produce effects similar to being drunk!
"We discovered that starving the body of sleep also robs neurons of the ability to function properly," said the lead researcher. "This leads to cognitive lapses in how we perceive and react to the world around us."
The longer you go without proper sleep, the more impaired you'll be.
After 48 hours without sleep, you may experience "microsleeps" — brief periods of time when you'll black out for up to 30 seconds. After 72 hours without sleep, you may begin to hallucinate.
If you're over 30, I doubt you're pulling all-nighters anymore. But the point remains…
Quality sleep is critical for both peak performance and long-term health.
This is because your body regenerates itself while you sleep. It repairs cells, rebuilds muscle, and records memories. So if you're not getting enough quality sleep, your body — and your mind — will not function as well as they should.
Worse, lack of sleep could lead to poor health and even disease. The CDC says that insufficient sleep is linked to type 2 diabetes, cardiovascular disease, obesity, and depression.
Sleep is really, really, really important. So if you're having trouble sleeping, then it's critical for both your immediate and long-term health to do what you can to solve your sleep problems.
How Meditation Improves Sleep
---
Dr. Herbert Benson, director emeritus of the Harvard-affiliated Benson-Henry Institute for Mind Body Medicine, says that sleep disorders are closely tied to stress for many people.
It follows that if you can release that stress and relax your mind and body, it will help you fall asleep and stay asleep.
One of the best ways to release stress is meditation. In fact, a study published in JAMA Internal Medicine found that meditation helped to fight insomnia and improve sleep.
Most people shy away from meditation because they think it involves sitting still, emptying their mind, and thinking of nothing.
This is why a guided meditation can be a powerful tool for stress release. A guided meditation provides calming instruction to help you control your breathing, lower your blood pressure, and reduce stress.
Use These 2 Guided Meditations To Release Stress, Relax & Fall Asleep Faster
---
My friends at BiOptimizers have created two guided meditations that they are giving away for free.
The first one will help you release stress in under 7 minutes. As you listen, you will naturally relax and feel a calm come over your body. You can use this guided meditation anytime you're feeling stressed.
The second one is a 15-minute session designed for you to listen to while lying down in bed right before you sleep. It will help calm your mind so you can drift off quickly and easily — and stay asleep all night.
Having used this guided meditation myself, don't be surprised if you fall asleep before the 15-minute guided meditation is completed.
Both of these guided meditations are available absolutely free on this page – no email opt-in required. It's BiOptimizers' gift to help improve your health and wellbeing through better sleep.
Sleep Problems Can Also Be Caused By One Specific Mineral Deficiency
---
Sometimes sleep problems aren't caused by stress, but rather because of a magnesium deficiency.
Magnesium is often called the "sleep mineral" because it has a calming effect and regulates the hormone melatonin, which controls your sleep cycles.
Simply getting enough of the right kinds of magnesium daily can have a profoundly positive effect on both the amount and quality of the sleep you get.
But it turns out that up to 80% of Americans are magnesium deficient. This is a BIG deal because magnesium is involved in 300+ processes and chemical reactions inside your body.
Maybe this is why a 2020 article published on MSN concluded that "there's one supplement that most Americans could benefit from adding back into their regimen: magnesium."
When you're not getting enough of the right kinds of magnesium, it's not just your sleep that suffers…
You might experience more stress and anxiety.
You might struggle to lose weight.
You might have low energy.
And your muscles might take longer to recover after you exercise.
ALL of these things (and more) are linked to insufficient magnesium levels!
Naturally, if you bring your magnesium levels up, it has a powerful effect on the quality of your sleep AND your overall health. Energy levels rise, stress levels drop, and maintaining a health weight comes easier — just to name a few of the benefits.
Besides chowing down on Brazil nuts, the best way I've found to get all 7 forms of magnesium that your body needs is to take Magnesium Breakthrough by BiOptimizers.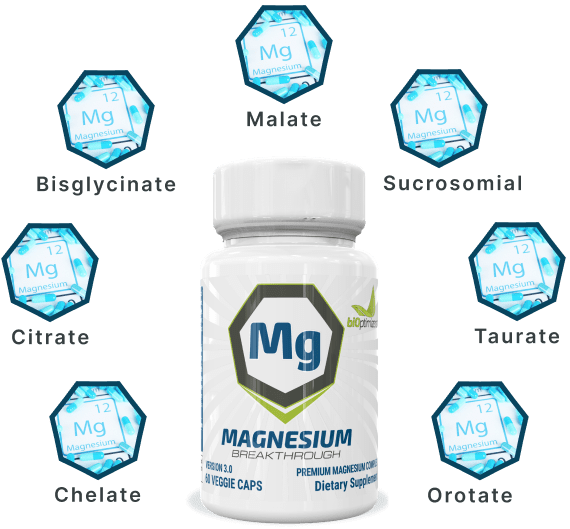 It's the ONLY magnesium supplement with 7 high quality forms of magnesium that your body needs to function at its highest levels. I now take Magnesium Breakthrough and recommend it to all my friends and family.
Listen, I know magnesium isn't the "hottest" fad nutrient out there right now, but it's super important for sleep and long-term health. That's why I strongly encourage you to learn more about it here…USE COUPON CODEMEDITATION10 TO SAVE 10% TODAYHow to Get All 7 Forms of Magnesium That Support Your Body's Sleep Cycles & Optimal Health
Rest Well,
Dr. Saundra
(Visited 1,558 times, 1 visits today)