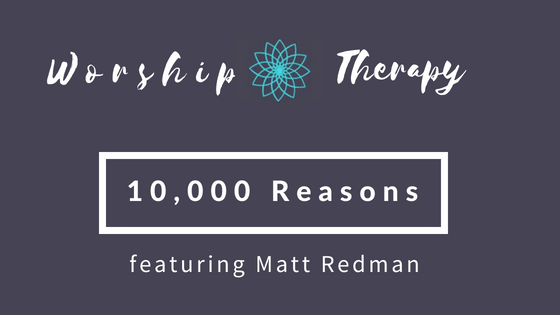 Welcome to Worship Therapy!
Worship has been an important part of my healing journey.  On this weekly podcast,  I'll be sharing songs and artists who have impacted my life with their gifts.
This week we will discuss having a heart of gratitude and it's ability to usher us into the presence of God.
Check out the podcast below:

WORSHIP
Our featured song is 10,000 Reasons (Bless the Lord) by Matt Redman.
Lyrics:
Chorus:
Bless the Lord, O my soul
O my soul
Worship His holy name
Sing like never before
O my soul
I worship Your holy name
The sun comes up; it's a new day dawning
It's time to sing Your song again
Whatever may pass and whatever lies before me
Let me be singing when the evening comes
Repeat Chorus
You're rich in love and You're slow to anger
Your name is great and Your heart is kind
For all Your goodness, I will keep on singing
10,000 reasons for my heart to find
Repeat Chorus
And on that day when my strength is failing
The end draws near and my time has come
Still my soul will sing Your praise unending
10,000 years and then forevermore
Repeat Chorus x 3
Lyrics courtesy of LyricMode
WORD OF GOD
Read Psalm 103
This passage of scripture where the heart for this song is birthed:
Bless the Lord, O my soul;
And all that is within me, bless His holy name!
2 Bless the Lord, O my soul,
And forget not all His benefits:
3 Who forgives all your iniquities,
Who heals all your diseases,
4 Who redeems your life from destruction,
Who crowns you with lovingkindness and tender mercies,
5 Who satisfies your mouth with good things,
So that your youth is renewed like the eagle's. ~ Psalm 103:1-5
Now consider the words in 10,000 Reasons as it relates to this passage. When you think of all of the benefits of being a child of God, gratitude and worship are natural responses. How can we not be thankful for the many good gifts He has placed in our lives.
Today's Therapy Session
Gratitude causes us to reflect on the blessings in our life and positions our hearts for even greater blessings. In Psalm 100, we are instructed to enter His gates with thanksgiving. When we practice gratitude, we are entering into a holy place with God. It's here that we become able to fully receive all He has for us. We don't enter through fear, need, desire. We enter through gratitude for what we already have, not our petitions about what we want. What are you grateful for today? Enter into His presence with a time of thanksgiving for the people and situations you rejoice over.
The lyrics in  10,000 Reasons states, "Whatever may pass and whatever lies before me. Let me be singing when the evening comes." Each day will have ups and downs, victories and challenges. But regardless of what happens during your day, there will always be a reason to bless the Lord and sing His praise. There is always something to be thankful for. It can be hard to see it when standing in the middle of chaos, so choose today what you can be thankful for on even the worse days. The faithfulness of God? His unending love? His promise to never leave you or forsake you? Choose one thing you will forever be thankful for even when life is difficult.
Choose Your Best Life,
(Visited 684 times, 1 visits today)