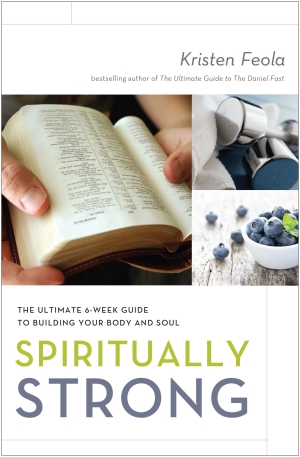 Life gives us many opportunities to build spiritual muscle. If I'm completely honest, I don't really enjoy the process of becoming spiritually strong. So when my friend Kristen told me this was the title of her new book, a part of me wanted to run in the opposite direction.
Becoming spiritually strong requires the execution of a little uncomfortable word called discipline. For me discipline has always implied something I don't really want to do. Yet Kristen has helped me to see this is not true. Over half of the six disciples she discusses in her book Spiritually Strong are actually activities I love doing. Imagine my surprise when prayer, serving others, and Bible study showed up as key aspects of what God uses to make us spiritually strong.
You see being spiritually strong is not about just having a strong body or being super holy. Being spiritually strong is about being in a mental, physical, emotional, financial, and spiritual state where God can use you for His ultimate purposes.
A spiritually strong person will:
Study the Bible and understand what God is saying to you.
Pray with power.
Incorporate periodic fasting into your life.
Honor God with your body through nutritious eating and exercise.
Practice good stewardship of the resources God has given you.
Serve others in humility as an outward demonstration of God's love.
I was reluctant to dive into yet another health or weight loss book, but Spiritually Strong is not your average health book. Kristen uses her gift of biblical teaching with her health and fitness background to weaves the practical with the divine. The result is a refreshing approach to a topic which can often be very laborious. For those of us who need all the motivation we can get to stay on our exercise programs, this is a great book to help you connect what you do physically with why you should do it and the effects it can have on other aspects of your life, happiness, and wellbeing.
Whether you need to drop a few pounds, improve your prayer life, or increase your joy in serving others; this 6 week guide will get you off to a great start in 2015. Let's make this year the year we leave behind old bad habit and walk into a spiritually strong life.
(Visited 424 times, 1 visits today)