What you put in your mouth can have a massive impact on your oral health. Certain foods actually improve the condition of your teeth and gums.
However, a group of foods can cause serious harm over the short and long-term. What's more, you probably consume at least one of them every day, if not more, without even realizing it. Some of the foods on this list are what you'd expect- things like candy. But others seem entirely random. It's only when you understand the science behind what's going on that any of it makes sense.
Oral health problems are no laughing matter. If you've ever had a toothache or cavity, you'll know that dental pain is a real and persistent phenomenon. Once it starts, it usually doesn't stop until you go to the dentist for emergency treatment.
Cavities and subsequent toothache are among the leading causes of lost productivity in the workplace. People have to take days off from their job on sick leave because they're in too much pain to do their job. It's a real problem.
Brushing is one of the best ways to fight against cavities, but it is by no means perfect. Cavities can still form, and toothache can develop, even if you're religious about cleaning your teeth.
The trick to avoiding dental pain and tooth loss is to combine good oral hygiene habits with a proper diet while avoiding problem foods. If you find yourself with regular dental problems, it could be that you're eating the wrong things. 
Potato Chips
Potato chips are one of the most enjoyable snacks in the world. The crunch and saltiness make them the perfect treat to munch while watching the TV.
Unfortunately, potato chips are bad for your teeth (and waistline), even though they're mostly free from sugar. The problem here is the starch that they contain. When fried and heated with oil, tiny particles of starch begin to break down and lose their natural structure. As they become finer and finer, their stickiness properties change too. They start to find it much easier to adhere to teeth. Eventually, the particles become so small that the saliva can't effectively wash them away. They linger in the mouth for longer. And when this happens, it gives bacteria a chance to thrive. 
Crisps are very different from natural, whole food. Beans and whole grains continue to retain their large particle size, even after chewing, making them less likely to stick to teeth. But due to cooking processes, the same is not true of potato chips. They can easily fit into the gaps between your teeth and remain in the recesses in the molars at the back of the mouth. And that's when problems start.
Citrus Fruits
Citrus fruits are healthy for your body, but not so good for your teeth, according to many leading dentists. According to practitioners, the problem is the high level of citric acid, which softens the enamel and can potentially lead to decay. 
In general, it is safe to consume fruit. The matrix that makes up the plant materials helps to cling on to particles of sugar, preventing them from slipping between the teeth and lingering in the mouth. But citrus fruit is unusual because it is a one-two punch containing fructose and high levels of acid.
Acid naturally softens enamel. Over time, repeated consumption can wear it away, leading to the exposure of brittle, yellow dentin beneath. If you eat something acidic, it is best to avoid brushing your teeth for an hour afterward. The brushing action can scrape away softened enamel from the surface and damage teeth further. In this situation, just wait for your saliva will naturally clear away the acid and help to re-harden your teeth.
Ice
Ice contains no sugar, no calories, and is pH-neutral, so how could it cause problems?
Putting ice in a drink to cool it down is okay. But chewing on it is a bad idea.
Ice is notoriously hard – especially compared to the vast majority of foods that people eat. Thus, the American Dental Association recommends that people wait for it to melt before drinking it. Chewing, they say, can lead to a variety of dental emergencies, such as broken teeth, loose crowns, and chipped teeth.
Do you like putting ice in your drinks? From now on, it is probably a good idea to use them solely for their chilling effect. Avoid crushing them between your teeth. If you can't help yourself, use the refrigerator instead and remove temptation from your sight.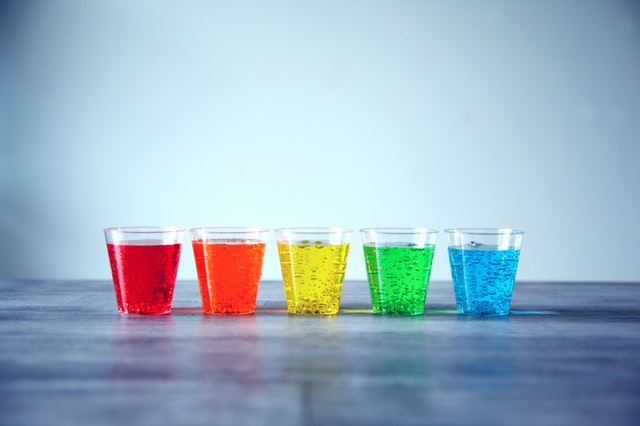 Diet Sodas
Everyone knows that regular soda is bad for their teeth because of all the sugar it contains. But it turns out that diet soda isn't good for them either. Why? It all comes down to their role in enabling the growth of plaque and their addictiveness.
Studies in the scientific literature suggest that soda could be as addictive as class A drugs. People who sip on carbonated beverages all day long may be experiencing something similar to what cocaine users go through, albeit without the same side effects.
Thus, the propensity for chronic consumption makes sodas more dangerous than regular citrus fruit. Unlike oranges and lemons, people can drink carbonated drinks all day, exposing their mouths to the acid, which softens the enamel. Furthermore, the dark color of many beverages can stain the teeth, making them look yellow and, eventually, brown.
Candies
Most candies are bad for your teeth because they contain sugar. However, sour candies might be the worst of the bunch because of the potent acids they contain. As you chew them, they release chemicals and sugar particles into the mouth which surround teeth. Eventually, they foster the growth of bacteria, and oral health begins to deteriorate.
Sometimes, a lifelong habit of candy easting can lead to the loss of all top row or bottom row teeth, making it hard to chew. Infection can spread from one tooth to another, leading to multiple extractions.
Fortunately, technologies such as all on 4 dental implants can reverse these problems. Still, wouldn't you prefer to avoid tooth loss in the first place? 
White Bread
White bread is a relatively recent invention. Before the industrial revolution, all bread was brown and made with whole, pulverized grains, including the bran and germ. Modern technology in the 18th and 19th centuries, however, made it possible to remove these components and concentrate the endosperm – the part of the plant that contains the most starch.
White bread is a staple of the western diet, but it's not healthy food – quite the reverse. It's also bad for your teeth.
When saliva mixes with white bread, it turns the soft spongy material into a paste. Like many of the others we have discussed, this substance can make its way down into the crevices between teeth, leading to the buildup of bacteria. It is a leading cause of cavities in this country, yet practically nobody knows how damaging it is.
The good news is that you can replace white bread with wholemeal bread and eliminate the problem. When you chew on the healthier alternative, it doesn't create a paste. Instead, the fiber in the plant holds onto the damaging starches, helping to flush them out of the mouth. There's much less "stickiness."
If you're really in the mood to take your oral health to the next level, you might want to consider investing in Graham bread, which includes husk fiber from the outer layer of the wheat berry too. Be warned – it contains a lot of fiber.
Alcoholic Drinks
Most people know that drinking alcohol isn't the healthiest habit in the world. But it can also have serious knock-on effects on the health of your teeth.
People who consume a lot of alcohol regularly encounter the problem of "dry mouth." This condition occurs when salivary glands don't produce sufficient saliva to keep everything lubricated and wash away particles. Drinkers, therefore, are more prone to bad breath than many other people because bacteria can thrive. Tongue infection is common. They're also more likely to develop gum disease and periodontitis – a severe condition where infection makes its way down to the root of a tooth. 
If you like to drink alcohol, make sure that you also consume it with plenty of water to keep yourself hydrated. If you engage in a heavy drinking session, try to remember to rinse your mouth out with mouthwash afterward to prevent bacteria from gaining a foothold.
In summary, there are many foods you wouldn't expect that can have a detrimental effect on your oral health. Sugar is a problem, but as researchers probe the issue more deeply, they're discovering that practically all processed foods are an issue. Pulverized food particles, divorced from the rest of the plant, get in between teeth and foster infection. Their stickiness means that saliva can't do its regular job and flush them out to the stomach. And that's when cavities and gum infection starts to take hold.
(Visited 109 times, 1 visits today)