The COVID-19 pandemic has dominated the year 2020, affecting countless people across the globe, leading to a tragic loss of life, bringing entire countries and economies to a grinding halt, and perhaps changing our way of living for many years to come.
Still, news of recent vaccine developments brings some much-needed hope and optimism to the situation, and countries have started opening back up in recent weeks and months, welcoming workers back to the workplace and opening the streets and stores once more to the public.
It seems that life is slowly starting to return to normal, but many people are still rightfully hesitant about stepping outside and cautious about going to work each day, well aware that the risks of the virus are still very real and need to be navigated with care and caution.
If you're heading to work and spending more time away from home while the pandemic continues, it's important to do all that you can to stay safe. With this in mind, here are some useful safety tips to look after your health.
Wash Hands Regularly
Of course, one of the top tips we can provide when it comes to workplace safety and general health during these trying times is one of the tips that everyone has heard so many times throughout recent months: wash your hands often and wash them well.
As we start getting back to normal, it's vital to not forget this simple tip. Washing hands with warm soapy water for at least 20 seconds helps to eliminate any traces of the virus on your hands, as well as keeping them clean of other germs and dirt as well.
Sanitize Surfaces
Your hands aren't the only thing that needs to be kept clean at these times, especially when it comes to the workplace. Make sure you keep your own work area sanitized and don't forget to use antibacterial wipes and other cleaning supplies to keep your phone and other devices clean too.
The virus has been proven to live on certain surfaces for long periods of time, simply sitting and waiting to be gathered up by unsuspecting fingers. You never know where it might be and who has been touching door handles and handrails around you, so do your part to keep everything clean.
Social Distancing
The term 'social distancing' wasn't one that many people were familiar with at the start of 2020, but by the end of the year, the term has most certainly become a big part of common vocabulary for people all over the globe.
The CDC encourages all workers, as well as members of the public, to try and stay six feet apart from one another at all times. This isn't always possible, like when you're navigating narrow hallways or sharing small office spaces, but try to keep your distance as regularly as possible.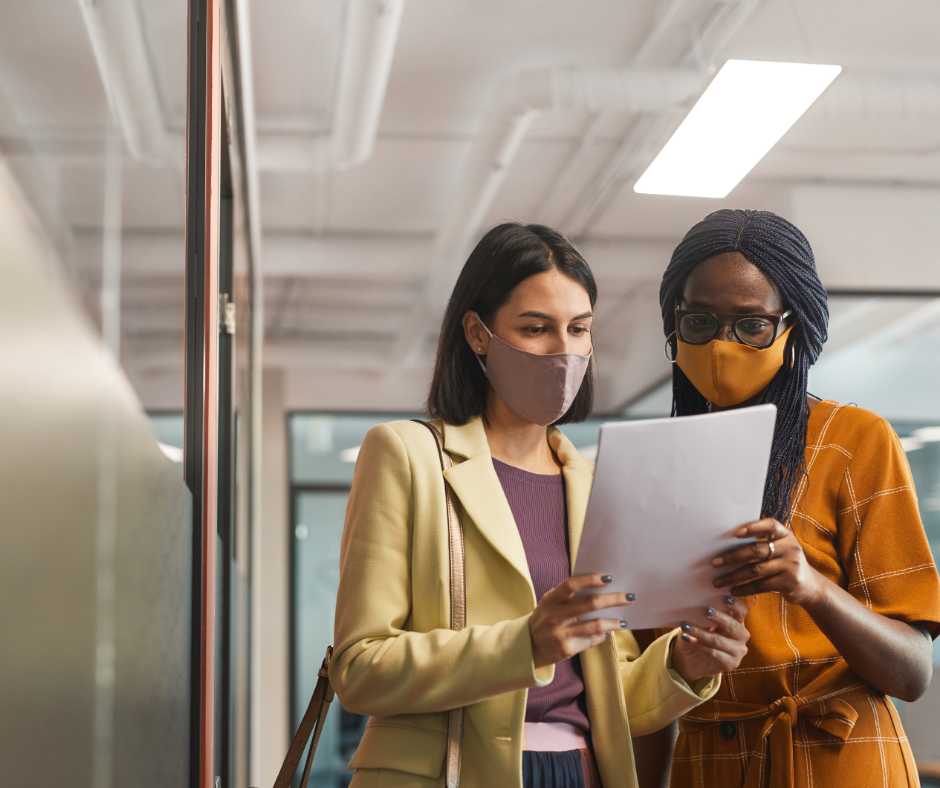 Wear Masks
Wearing masks has become something of a controversial issue in certain circles, but there's no denying the wealth of scientific evidence that shows how effective masks can be. They aren't a foolproof safeguard against the virus, but they do massively help to reduce its spread.
A mask will protect you and protect others, and most workplaces will enforce mask-wearing rules. You should have your own stock of disposable masks ready to use each day, or your employer may provide them. You can also be reusable masks that can be washed in between each use.
Speak Up
Another top tip we can provide to help everyone stay safe in these unprecedented times is to make sure you speak up and let your employer or colleagues know if you don't feel totally safe or part of the workplace policy regarding COVID-19 doesn't quite feel right to you.
There's no need to suffer in silence. If you feel your employer is putting you and others in danger, it's important to take action. Similarly, if ever you notice any kind of symptoms of the virus, don't simply ignore them and try to work through it, as you could be putting others at risk; let someone know how you feel and get yourself tested.
Conclusion
We've never seen a global health crisis quite like COVID-19 before, and even now, as some signs of hope on the horizon begin to glow brighter and the end seems to be in sight, it's important for everyone to remain cautious and keep themselves safe. Bear these tips in mind and protect yourself and others at work.
GUEST WRITER: Susan Malony is an avid writer, traveler, and overall enthusiast. Follow her at https://twitter.com/sumelony
(Visited 86 times, 1 visits today)