CBD oil is quickly becoming a favorite among health and wellness enthusiasts, however, there are many who wonder if it is right for them. I've asked Bryan D'Alessandro, CoFounder and CEO Eaton Hemp, to shed some light on the topic. Check out his insightful article below.
***
As human beings we have always sought to improve our quality of life as well as optimizing our performance. CBD and Cannabis have been all the buzz lately and while many people think this is a novel discovery, that fact is, we have known about CBD's numerous benefits for eons.
So why did we fall out of touch with the healing powers of the Cannabis plant?
Hemp was effectively made illegal in 1937 under the Marijuana Tax Act and was fully criminalized in 1970 under the Controlled Substances Act—which banned cannabis of any kind. This not only made it illegal and hard to access but also started a damaging narrative that unjustly villainized the plant.
We went down a road of science that failed to identify the body's Endocannabinoid System. In fact, it wasn't until 1992 that the Endocannabinoid was discovered in modern medicine, at the Hebrew University in Jerusalem, by Dr. Lumir Hanus along with American researcher Dr. William Devane.
Now that we are clear on how we lost touch, let's get into how we can tap into this powerful system that regulates so many of our body's key functions. UCLA research explains "The main function of the endocannabinoid system is to maintain bodily homeostasis—biological harmony in response to changes in the environment. We now know the endocannabinoid system is involved in a wide variety of processes, including pain, memory, mood, appetite, stress, sleep, metabolism, immune function, and reproductive function. Endocannabinoids are arguably one of the most widespread and versatile signaling molecules known to man." Because the Endocannabinoid System is in fact, ancient as well– with taxonomic investigation revealing it evolved over 500 million years ago.
The ECS is all about helping your body find balance and achieving homeostasis. This is the neutral state your body enters that allows it to rest, digest, and repair. This means thriving over surviving! The truth is that in our modern times, we spend much of our time –way too much– in a fight, flight, or freeze state. This looks different from our ancient ancestors, as we aren't typically being chased by leopards but rather emails, mounting deadlines, and never ending todo lists. We are perpetually plugged in, amped up (often on caffeine), consuming lots of food, and even more content staring at a screen. This leaves our bodies pumped full of cortisol and adrenaline, which causes excess inflammation, stress, and wreaks havoc on our digestive and sleep cycles.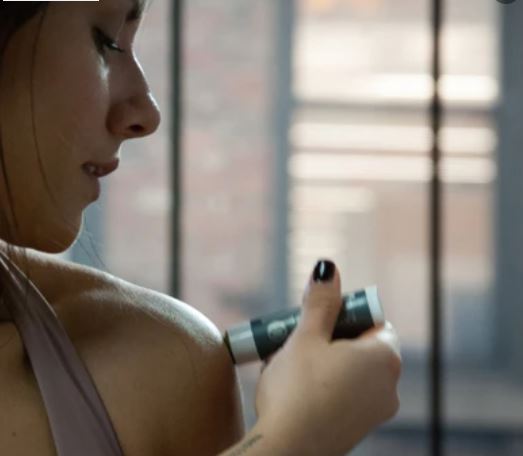 So needless to say, we collectively need to chill out! In comes CBD. Cannabidiol or as it's more commonly know, CBD is a phytocannabinoid found in certain strains of cannabis. This is only 1 of over 100 cannabinoids found in the plant which is why I always opt for an unfiltered, full-spectrum CBD product since the full range of cannabinoids provide various benefits. CBD is non psychoactive, and by current law products do not contain more than .3% of THC which will not get you high- for anyone wondering. What it does do is stimulates the natural occurring CB1 and CB2 receptors that are found throughout the body. CB1 receptors are primarily found in the central nervous system and are responsible for governing coordination, movement, pain, appetite, memory, mood, and other functions. The CB2 receptors are generally found in the peripheral nervous system, influencing pain, and inflammation. The science behind this is still limited and we are discovering more benefits every day. CBD's benefits aren't even limited to CB receptors, it stimulates many others including serotonin receptors as well as pain and inflammation receptors.
So whatever you are looking to CBD for, stress and anxiety, chronic pain, sleep, or mood boosting, build your own plan. We are here to help. A few things to note is that there are different ways to get CBD into the body. Sublingual oils are the most common and are a great starting point since they are systemic meaning they get into your bloodstream and support where needed, they also have a high bioavailability which means you absorb a lot of it. Then there are topicals which are a local application, think any medical cream or salve that you apply on the spot. The overall absorption rate is slightly lower but it hits the issue right on the spot AND your body naturally sends those CB1 and CB2 receptors straight to injuries so the benefits are experienced very quickly. Then there is CBD flower which is a smokable format, this is by far the most efficient and effective way to get the systemic affect. The bioavailability is the highest and you feel it within moments. This is often used for chronic pain, sleep trouble, or just dropping in and turning off the mind.
It is our mission at Eaton Hemp to empower you to take your health into your own hands. We simply develop products to help do that confidently. One such line of products is our CBD. We spent much time developing the line and refused to bring it to market until we could be certified USDA Organic. The reason for this is that there are lots of products out there that have toxins and chemicals in them and since hemp is a natural phytoremedial plant, it will pull those toxins out and they end up in the product. We also vow to keep the whole plant intact to the best of our ability since that's how it is most effective. To do so our products are all full-spectrum, unfiltered and use hemp seed oil as the carrier which is grown on our farms in upstate New York. We have compiled plenty more information and support on our site so please have a look and if you have any questions, feel free to reach out. I live for this!
To learn more visit Eaton Hemp and use the discount code drsaundra to get 20% off your order.
Got Questions?
Bryan D'Alessandro and I had a chance to tackle your specific questions on a recent LIVE webinar CLICK HERE to watch the replay.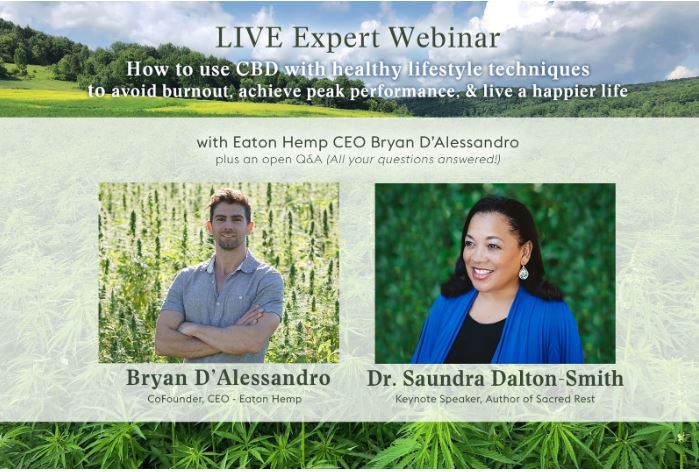 (Visited 398 times, 1 visits today)