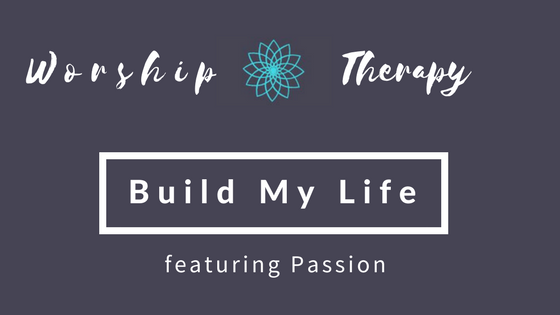 Welcome to Worship Therapy!
Worship has been an important part of my healing journey.  On this weekly podcast,  I'll be sharing songs and artists who have impacted my life with their gifts.
This week we will be discussing how to build a life that exceeds our wildest dreams and expectations.
Check out the podcast below:

WORSHIP
Our featured song is Build My Life by Passion.
Lyrics:
[Verse 1]
Worthy of every song we could ever sing
Worthy of all the praise we could ever bring
Worthy of every breath we could ever breathe
We live for You
[Verse 2]
Jesus, the name above every other name
Jesus, the only one who could ever save
Worthy of every breath we could ever breathe
We live for You
[Chorus]
Holy, there is no one like You
There is none beside You
Open up my eyes in wonder
Show me who You are
And fill me with Your heart
And lead me in Your love to those around me
Lyrics courtesy of Genius
WORD OF GOD
Read Psalm 25
This Psalm provides the three steps plan needed to build an exceptional life:
Show me your ways, Lord,
teach me your paths.
Guide me in your truth and teach me,
for you are God my Savior,
and my hope is in you all day long.~ Psalm 25:4-5
Now consider the words of the song Build My Life. One important point to keep in mind is that the building process begins with God. You are not the architect or builder, but you do have to cooperate with Him to see the landscape of your life change.  He does the showing, the teaching, and the guiding. You must be open to seeing, learning, and going.  A life that exceeds your wildest dreams, is one only God can create. Instead of spinning your wheels trying to make it happen for yourself, ask God to open your eyes to those you can love right now by sharing your unique gifts.
Today's Therapy Session
What is your deepest gift? There is something inside of you that is demanding a release. Your gift can only be silenced for a season, eventually, it will come to the surface. It can come forth in a destructive way or in a constructive way.  What do you do naturally that others find difficult? Stop overthinking the word gift. Making others laugh is a gift. Baking cakes that make someone want to slap there mama is a gift. Encouraging others is a gift. The list is endless, so I'll ask you again – what's YOUR gift? Now go share it.
What is it you are really afraid of – failure or success? Don't confuse the fear of failure with the fear of success. Sometimes we resist trying new things because we fear unknown outcomes. The fear of failure is based on the fear things will never change and you will be stuck where you are now. The fear of success is based on the fear things will change drastically and you don't know what to expect. Which causes you greater anxiety? We get comfortable in our present and can become intimidated by the unknown.  Stay grounded in the building process by knowing the God is able to sustain what He builds.
Choose Your Best Life,
(Visited 345 times, 1 visits today)